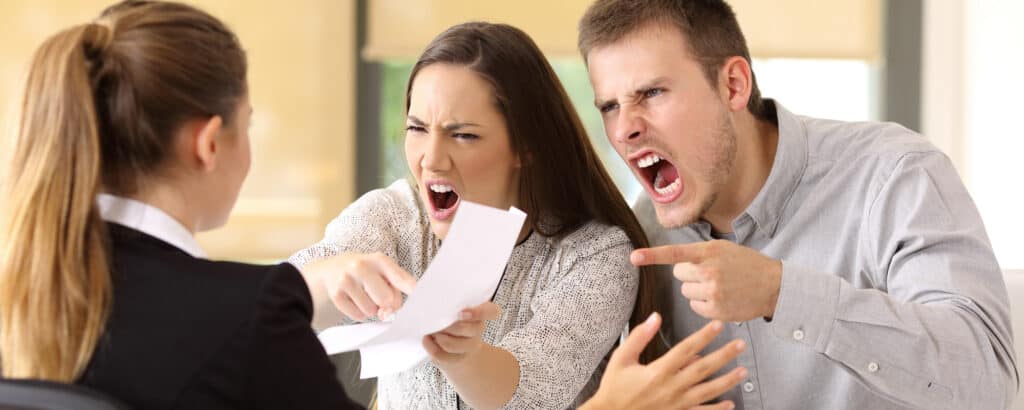 Customer from Hell, or Customer Service from Hell? You Decide.
One of the toughest conversations I sometimes have to have with clients goes something like this: "So, we've got good news and bad news. The good news is that you don't actually have customers from Hell. The bad news is that you do seem to have customer service from Hell."
Fortunately, when I do have to have these types of conversations, they usually go pretty smoothly. Our clients, after all, are looking for solutions and most recognize that identifying the real problem is 90% of the battle. On rare occasions, though, people will get a bit defensive, and become intent on blaming customers for every negative interaction. That's when the conversation gets tricky.
The reality is that, like it or not, it is most often employees who trigger a negative interaction – often without even realizing that they have pushed a button somewhere.
I  just happened on this nine-year-old story from our archives. To be honest, I'd forgotten about it and how well it illustrates how quickly a disappointed but reasonable customer can be transformed into a very angry person.
When you read the dialogue, you can see the escalation – and how the employee continues to add fuel to the fire. I would be willing to bet, however, that when the conversation had ended, the employee was telling everyone about his Customer from Hell.
It's is a great cautionary tale.
Follow these four steps with every unhappy customer
When a customer is frustrated, you have conflict. That's okay. Conflict, in and of itself, is not a bad thing. For example: I want Italian food, you want Chinese. That, by definition, is conflict. It doesn't have to be nasty – we just figure it out and move on.
What we want to avoid, though, is confrontation. Confrontation happens when one or both parties send the message that they just don't care about the other's point of view. The moment your customers get that message from you, intentional or not, is the moment that your interaction begins its descent into Hell.
Here are four things to do to try and prevent that from happening
1. Listen
Make sure that you understand what the issue is, and why it is important to your customer.
2. Acknowledge the situation
If something isn't right, let customers know that you know it isn't right.
3. Care
Let customers know that you want it to be right, and that you wished it had been right in the first place.
4. Make it better
Tell them how you're going to make things better. If you can't make things better, let them know that you genuinely wish that you could. Try to give them alternative solutions.
A positive start is important
There is more to it than just these four things of course. Service recovery involves a lot of diverse skills. But these will help you get off to a positive start, and that is critical.