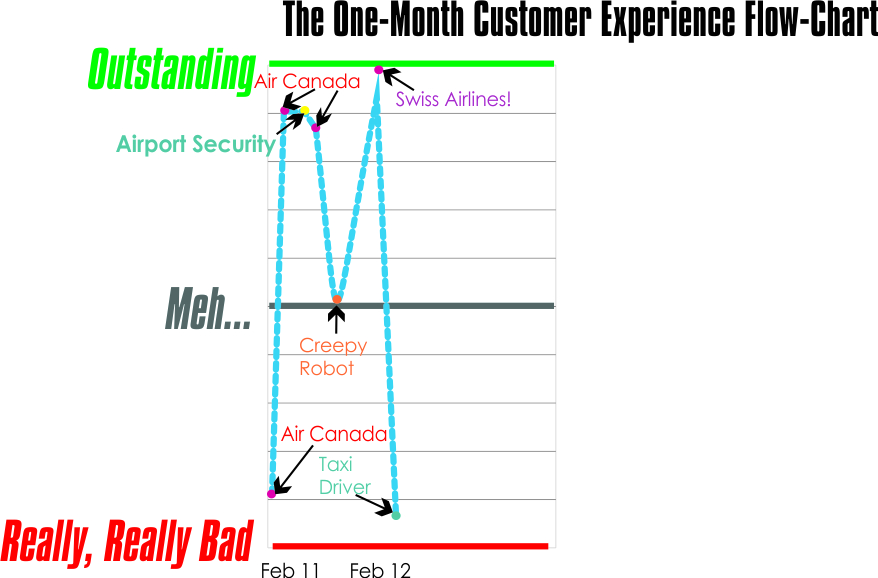 Some 23 hours after leaving our home in Ottawa, we arrived in our new home (for the next month) in Fuengirola, Spain. One short flight on Air Canada followed by two longer Swiss flights to Luxemburg then Malaga. A 45-minute train ride from Malaga to Fuengirola. Finally, all that was left was figuring out how to get to the AirBnB apartment we had rented.
"You're (not) #1!!!"
We hopped in a waiting cab, and gave the driver our address. She asked for the street number and I said "una" (one). She stared at me, and asked again. Again I said "una," this time holding up one finger, just in case I was pronouncing "una" badly. She frowned and shook her head, but started the car and began to drive. I knew it was on a major street and that it really wasn't too far from the train station. I had seen it on a map, and wasn't entirely sure what the problem was.
After about ten minutes of more driving than was necessary for the five minute trip, our driver was clearly becoming agitated. "What street?" she asked again in Spanish, glancing all around her. I told her again and she pointed at a sign to indicate that this was the street we were on. "Perfecto," I responded with a big smile. Nothing like a little positive affirmation to brighten the mood, I thought.
"¿Qué número?" ("What number?") She asked again, very seriously. She apparently hadn't noticed my positive affirmation.
"Una," I repeated, again holding up one finger. I smiled again, just in case.
She rolled her eyes, raised her voice a little in frustration and said, "No! – ¿Qué número?"
I did it in reverse order this time, first raising my finger, and then saying "una." Maybe that would make a difference. I didn't smile, in case that was just making things worse. Perhaps she didn't know what a smile was.
"¿Una?" she repeated in disbelief. "Si," I said, "Una." I then added "Por favor" at the end. Had she just been waiting for me to say please?
She sighed, clearly not believing that this annoying, jet-lagged Canadian could possibly have it right, muttered una under her breath, then drove half a kilometer down the street. She stopped, pointed up at a street number and said "una!" as if to say "See, I told you this wasn't it!"
I recognized the building from the pictures, so I smiled one last time, paid the fare, got our luggage and got out of the car. She watched skeptically as we walked away. I think she was disappointed that we were in the right place.
It's Not An Uncommon Attitude
What I found interesting about the experience was that it isn't really all that unique. Customer service failures often begin with someone not actually listening to what a customer is telling them. It can be tech support people who fail to assess a customer's experience level, assuming instead that they won't understand. It can be a fashion salesperson not respecting the types of clothing that a customer prefers, steering them instead to something different. While there is nothing at all wrong with being smart, it is almost always a Bad Thing to begin with the assumption that you are smarter than your customer.
That's it for today! Stay tuned for the next installment on Off-Seasons, Malaga and Tourism.
Oh – before I sign off, I would be remiss if I didn't do a quick shout-out to Swiss for the absolute best airplane food I've ever eaten! The roast beef was better than most restaurants, and the (Swiss chocolate) dessert was outstanding!