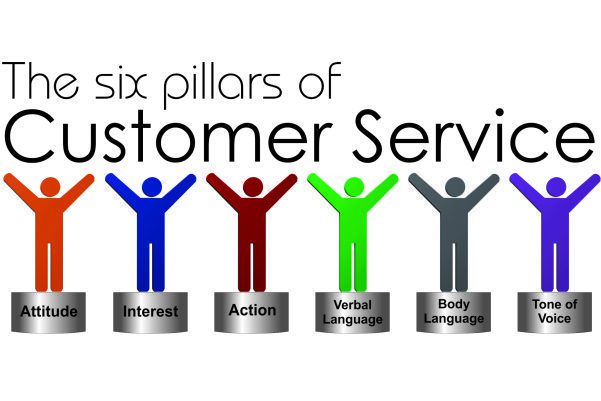 Guide Your Customer Service Training Initiatives With These Six Pillars of Customer Service
When you are looking to improve the customer service in your organization, one of the first things you need to do is identify is the specific behaviours that need to be targeted.  What are the performance gaps that need to be closed?
Customer service behaviors fall into six fundamental categories, which we refer to as the Six Pillars of Customer Service.  They provide a good starting point for the development of customer service training programs, coaching plans or incentive strategies:
The Six Pillars Of Customer Service
 

Attitude
Attitude includes being solution-driven, being positive, having energy, etc.  Contrary to popular belief, there are some very effective ways to influence these things.
Interest
Interest is being 100% customer-focused, and conveying to customers that they are important.
Action
Over 90% of customers consider "taking ownership" as the primary factor in WOW customer experience.
Verbal Language
Strong communication skills, and attention to positive verbal language strategies create positive experiences, and minimize negative ones.
Body Language
Even when our mouths aren't speaking, our body is. Poor body language can often undermine otherwise positive messages.
Tone of Voice
This is the single most neglected, yet one of the most powerful skill sets. Tone of voice contributes to our ability to persuade, influence, empathize and engage.
Each of these pillars involve very specific skill sets that you can target, and, of course, not all of the pillars apply equally, or in every work environment.  Take the time to examine what you would like to accomplish, then use the six pillars of customer service to guide your training or coaching initiatives.
Good luck!
"Don't be fooled into thinking that customer service is simply common sense.  There are a great many skills involved that are difficult to master"  Shaun Belding