Top 10 Customer Service Stories of 2017
(See the top 10 WOW Experiences from 2018 and 2019)
With 2017 drawing to a close, we've gone through our notes to find what we felt were the top 10 Wow customer service stories of the year.  It was a big task – there were a lot of great stories out there!  Here are our winners, presented in order from number 10 to number one.
Full disclosure – the choice of the best Wow experiences, as well as their order, is fairly subjective.  For the criteria, we used the same definition of "Wow customer service" that was used in the insightful Science of Wow research conducted by The Belding Group last year.  A Wow Experience is defined as "An experience that a customer is likely to share, unprompted, with family, friends or the public, either in-person on on social media."
The #1 WOW Customer Service Story Will Grab Your Heart
Whether or not you agree with the ordering, we hope you agree that these WOW customer service stories are ten fantastic examples.  They are proof that everyone can create WOW customer service!
10.  Elon Musk's Epic Customer Service Tweet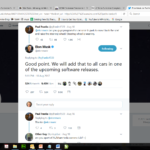 When Paul Frank tweeted out "@elonmusk can you guys program the car once in park to move back the seat and raise the steering wheel? Steering wheel is wearing.", he probably wasn't really expecting the CEO of several of the world's most disruptive businesses to actually respond.  Not only did Mr. Musk respond, he did so in 30 minutes, and promised to make the change immediately.  Unlike a lot of CEOs, nobody can accuse this man of being out of touch with his company's customers!
---
#9  American Airlines Pitches In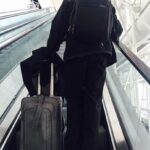 Airlines haven't been getting a lot of love recently, and perhaps for good reason.  American Airlines in the Dallas/Ft. Worth airport, however, deserves a mention here.  When a woman found an autistic man curled up in a ball, worried about missing a flight, she immediately took action.   American Airlines employees worked with her to help get everything sorted out and ensure that he got home safely.  It's a wonderful story about an individual genuinely caring about someone, and employees of a company going above and beyond to help out.
---
#8.  Grocery Store Employees Save Customer From Scam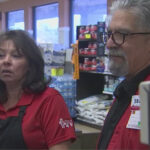 There are a lot of people being hurt by scams these days.  When two employees of Fry's grocery store in Chandler, Arizona saw a customer buying hundreds of dollars in pre-paid gift cards, something didn't seem right.  Rather than just ignore it, they talked to the customer and found out that he was unwittingly being scammed, and saved him hundreds of dollars.  Proof of how much of a difference you can make when you're observant, and care about your customers.
---
#7.  "This is not a problem, honey. We will do this together."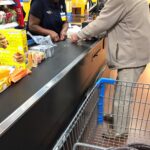 A man had pulled out handfuls of change to pay for an item at a Wal-Mart in Clarksdale Mississippi.  He was struggling, his hands and voice were shaking and he was clearly self-conscious.  Instead of becoming impatient, however, the cashier takes his hands and begins counting with him, saying, "This is not a problem, honey. We will do this together."  Spring Bowlin, who was in line behind the customer, captured a picture with her camera.   When she thanked the cashier for being so very patient with the other customer, the cashier just shook her head and replied, "You shouldn't have to thank me, baby. What's wrong with our world is we've forgotten how to love one another."  If that isn't the best expression of an outstanding customer service attitude, I don't know what is.
---
#6  Publix Employee's Act Of Kindnesss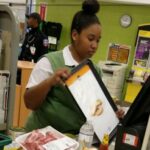 When a customer at a Publix store in Fairburn, Georgia didn't have enough money to pay for the groceries, the cashier, Sierra, pulled out her debit card and covered the cost.  Dam Tyrone II, the customer behind her, witnessed this wonderful act of kindness and was so inspired, he paid for the customer behind him at a store later on in the day.  In customer service, we often talk about the importance of "going above and beyond."  This story, which has since gone viral, and is a fantastic example of the ripple effect we can create.
---
---
#5  More Compassion From Wal-Mart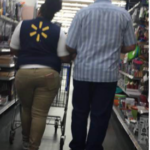 This is the second of our top 10 stories that is from a Wal-Mart in Mississippi.  This time in Biloxi.   Brittany Walton didn't hesitate when she was told of the blind man that needed help with his shopping.  She asked another associate to fill in for her, then spent the next two hours with the gentleman, holding hands and talking with him.   "I wanted him to feel love and compassion. I wanted him to feel it was all about him," she said.   She certainly accomplished that.  And, after over 22,000 Facebook shares in just a few days, she has undoubtedly made the world a better place.
---
#4  Man Leaps Through A Drive-Thru Window To Save A Woman's Life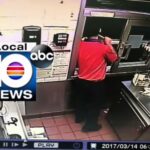 A quick-thinking McDonald's employee in Doral, Florida helped save the life of an off-duty police officer and possibly her two children.  While working at the drive through, he saw the customer beginning to have breathing difficulties.  When she lost consciousness and the SUV she was driving began to roll away, he leapt through the tiny drive-through window and actually threw himself in front to stop it.  This is a WOW customer service story that people will be talking about for a long time!
---
#3.  Domino's Delivers A Heartwarming Experience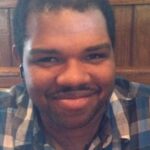 It's not very often that someone will give a pizza delivery person a $20 tip waiting for two hours for a pizza, but Flint Michigan resident Ashley Schafer thought it was the right thing to do.  It turns out that the driver, Benjamin Houston, had walked the last half-mile to make the delivery after his car broke down.  The area wasn't safe for walking, particularly for a deaf person, but he wanted to make sure he made the delivery.    The customer was so touched that, in addition to the tip, she set up a GoFundMe account to raise money for the drivers' car repairs.  As WOW customer service stories go, it's hard to get much better than this!
---
#2.  Dunkin Donuts To The Rescue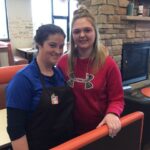 It's been said that eating donuts is bad for your health.  Eating at Dunking Donuts, however, saved one man's life.  Megan Schriner and Danielle Hastings, two employees at a Lisbon, Ohio location, noticed that one of their regulars hadn't shown up for a while.  He even had missed his birthday – and the cake they had planned to give him.  They actually went to his house to check on him, and discovered that he had fallen days earlier and couldn't get up.   They helped him to a hospital, where he recovered.   Can you imagine what the world would be like if everyone cared that much about their customers?
---
#1  Southwest Employee Helps To Kick Cancer's Butt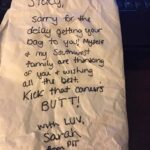 Things hadn't started will for Stacy Hurt when her luggage didn't show up after flying from Nashville to Pittsburgh.  In it, among other things, was medication, a rosary and lucky T-shirt she had packed in preparation for the chemotherapy she was going in for in the morning.  The luggage was by her front door when she woke in the morning, along with a hand-written note that said, "Sorry for the delay getting your bag to you. Myself + my Southwest family are thinking of you + wishing you all the best. Kick that cancer's BUTT!"
The customer service agent Stacy had spoken with on the phone was Sarah Rowan.  Sarah learned that they luggage had been delivered at 2:00am, but that all of the couriers were closed for the night.  She looked at the address and realized that it was only 25 minutes from her home, so she picked it up and delivered it personally, along with the note.  Wow.  Just… Wow
Customer service is, at its very essence, all about caring for the people around us.  These amazing stories show exactly how much a difference we can make when we do.