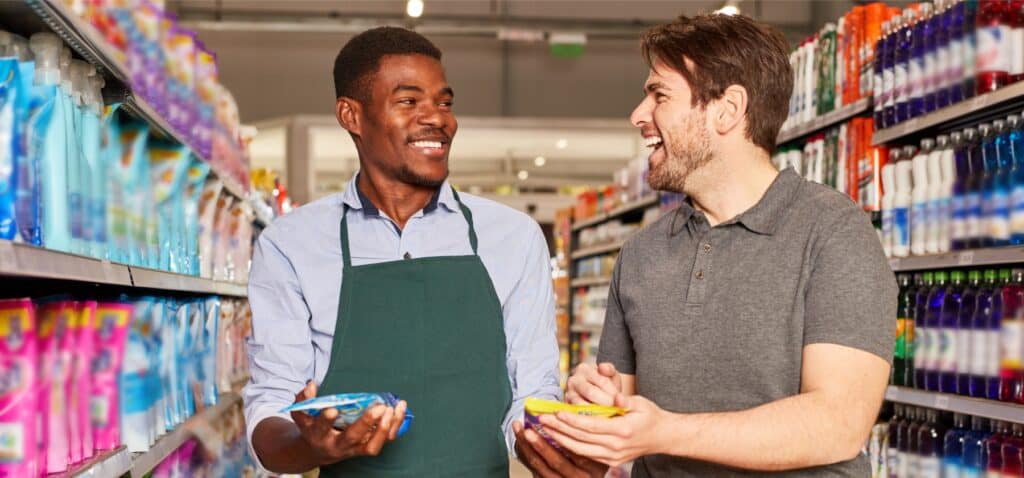 The Top 10 Customer Service Stories of 2022
The 2022 list of best customer service stories was a tough one. Not only were there a lot of stories to choose from, but a great many of them were stories of great kindness. This year we had a short list of 121 customer service stories!
To be honest, much of the ranking came down to a flip of the coin.
The Good News and Bad News
The good news
The good news was the amazing number of heartwarming acts of kindness we found in 2022. A great many of them involved employees going so far as to help out customers financially when they were struggling. Customer service is about letting customers know that you care, and that's a pretty definitive way to send that message.
The bad news
The bad news was that we had to narrow the list down to ten. We also try to find a representative cross-section of what outstanding customer service looks like. We don't want to send the message that these generous acts are the only way (or even the best way) to create an awesome experience. Because of this a lot of fantastic stories didn't make the list.
About our Best Customer Service Stories list
We've been collecting customer service stories for a long time. My company specializes in customer service training, leadership training and customer experience consulting, and these experiences are invaluable in illustrating what outstanding customer service looks like — and what leaders should strive for. Several years ago, we decided to start ranking them, and sharing the top 10 best and worst experiences of the previous year.
The number of customer service interactions around the world number in the billions each week. We probably missed a few.
The ranking between numbers 1-10 is completely subjective, and a couple of times came down to the flip of a coin. Feel free to disagree! All of the people in these stories are #1 in our books.
I hope you find these examples of great customer service as useful, enlightening and inspiring as we do! Here are the winners, presented in order from number ten to number one.
#10 - Customer Wins in Video Replay
We've all had that moment where that cash (remember cash?) we were certain was in our wallet somehow disappeared.
Well, fortunately for one New York woman, it happened at  the Fix-A-Dent repair shop where her car was having some work done.
An employee had found $40 on the floor, and the manager called the customer to see if it was hers. She said she didn't think so.
Rather than just stop there, Fix-A-Dent reviewed their video and determined that it was, in fact, that customer's cash. They called her again, and the grateful customer and her cash were reunited.
Customer service is about doing the right thing for the right reasons. This is a great example.
#9 - Fast Food - Faster Employee
Chic-fil-A has made our list a number of times. This story comes from their Lorain, Ohio restaurant.
When a customer accidentally left her credit card in the store, quick-thinking employee told the Front-of-house director, Kat. Kat, in turn, grabbed the card and raced out the door, chasing the customer through the parking lot, across an intersection and down a street until she caught up to the car and wave through the window. It was all caught on video and, wow – that woman is fast!
Talk about a team committed to creating great experiences!
#8 - Asda Special Delivery
The 82-year-old Nuneaton Asda customer came in looking for a specific microwave that was out of stock. When it came into the store a few days later, employee Steve Lees didn't want him to have to make a second trip to get it.
Lees paid for the microwave himself, lugged it onto a bus and rode it to the customer's home and set it up for him. Needless to say, the customer (who repaid him) was exceedingly grateful.
Why did Lees do it? His answer was simply, "It was just the right thing to do."
The recipient of the microwave has been a loyal customer at the Asda since it opened thirty-three years ago. With service like that, why would anyone go anywhere else?
#7 - Welcome to the Hotel Walmart
So, imagine it's two days before Christmas, and you run out to your local Walmart for that last-minute shopping. There's a raging snowstorm outside and, while you're doing your shopping, the police have to close all the roads.
Yikes.
That's what happened at the Chatham, Ontario Walmart to over 100 people. Some had been shoppers, others drivers who had no other place to go.
The manager and staff took quick action and went out of their way to make everyone comfortable for the night. Snacks, coffee, tea, air mattresses, games – everything everyone needed.
It's a wonderful story of putting their customers first.
#6 - A Starbuck's Coffee With a Special Message
Outstanding customer service isn't about grand gestures. It's about seeing your customers as people – not as wallets. It's about looking after their best interests.
That's what one Corpus Christi Starbucks employee was doing when she gave an 18-year-old customer a hot chocolate with this message written on the cup:
"Are you okay? Do you want us to intervene? If you do, take the lid off the cup."
The employee had noticed that an older customer had been paying the teen an unusual amount of attention and was concerned. Fortunately, it turned out that everything was fine. But that is the kind of keen awareness and prompt action that can make a huge difference.
#5 - What Goes Around, Comes Around
Caring about customers – and having genuine compassion is at the core of customer service. Most of the time we never get to see the difference we make in our customer's lives. We do it because it's the right thing to do – not because there's a payback.
This is a beautiful story of compassion – and the unexpected payback that came of it.
When a Walmart customer couldn't make make the large payment for her groceries, teenage employee John Lopez Jr. paid for her – taking the money from his college fund.
A customer in line was so struck by his gentle kindness she recorded it on video and posted it on Facebook. It went viral, and prompted another customer to start a GoFundMe campaign to help the young man pay for college.
His goal was to raise $1,000, which he exceeded by $36,087!
Why did the employee pay for the groceries? "My parents basically taught me if someone needs help," he said, "you should be able to help them and if someone is down, bring them up."
Wow. Just wow.
#4 - A Customer Service Legend at Burger King
This customer service story isn't about a single interaction. It's about a Mechanicsville, Virginia woman named Monica, who has delivered outstanding customer service so consistently and so well for over 30 years, that she is referred to as a "legend."
A group of customers got together just before the holidays in 2022 to thank her and shower her with gifts. The customer who presented them said, "You are a blessing. You are an example of how to treat other people."
The humble Monica said, "You never know when someone might be having a hard day. Just a kind word stretches a long way."
Yes. Yes it does.
#3 - A Shoe Salesman Ties One On
It was a few days before the start of school when 3rd Grader Titus walked into Dick's Sporting Goods  lamenting that "I'm the only 3rd grader in the whole world that can't tie his shoes." Thanks to Jay Jay, his salesman, he wasn't saying that on his way out.
When Titus's mother told Jay Jay of the boy's struggles in learning how to tie shoes, Jay Jay said to the boy, "I can teach you. My mom always confused me when I was learning from her, so maybe I can help you the way I learned." Then he patiently spend twenty-five minutes teaching him, encouraging him to practice and recruiting his siblings to support Titus while he practised.
Needless to say, Titus's mother was thrilled – as was Titus.
A great illustration of how much of a difference outstanding customer service can make in people's lives.
#2 - Homeless Man Gets an Unbelievable Upgrade
Tom Agnes, the manager at Brooklyn Center Liquor in Minnesota, was wondering why his employee, Ta Leia Thomas, was working in her sock feet.
She explained that she had found a homeless man outside the store, digging in a garbage can for boxes that he could wear on his feet – so she gave him her shoes instead.
Technically, the homeless man wasn't a customer, but the actions of Ta Leia (who goes by 'Ace') struck a chord with her manager. particularly when he learned that the shoes were her favorite pair of purple Nike Air Jordans. He was so impressed that he raised the $450 to buy a new pair.
He is quoted as saying, "I wish I could have a dozen Aces on staff." 
No kidding.
#1 - Can I Give You a Hug?
Caring. Empathy. Compassion. Understanding. Humanity. These are all words to describe what it takes to deliver wow customer experiences.
The number one customer service story of 2022 is a simple one – that has all of those things.
It took place at Discount Tire in Bloomington, Minnesota. Employee Codey Zuelow was working when his customer, Barbara Lewis, received a call that her mother had died. It was, needless to say, a profoundly traumatic moment.
When Codey learned what had happened, he put a rush on the work that was being done for her. Then, when he handed her the keys, he said, "Barbara, I'm sorry. I heard what happened. Can I give you a hug?"
It was the right thing to say, and later, when he offered to shovel her driveway, Barbara said, "No thanks, I'll just take another hug."
Barbara was overwhelmed by his kind gesture. She said, "On the way home, I kept saying, Who does this? Who says things like that? It just really makes you believe that there's still good people."
THAT is a Wow experience.