Customer service in Italy.  This is the tenth installment in an examination of customer service in nine countries – and customer service aboard the MSC Preziosa. (for the previous installment, see this link)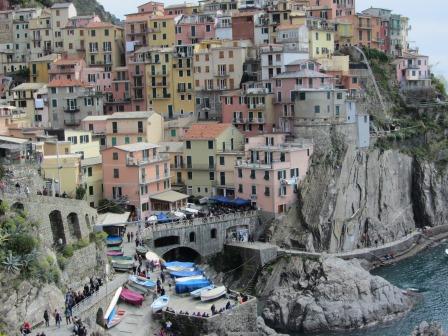 If the levels of customer service in Spain are great, then customer service in Italy can only be described as awesome. As with everything and every place there are exceptions, of course, but overall, Italians take their relationships with their customers very seriously.
When it comes to work in general, Italians are very serious. They take great pride in what they do, and make great effort to do it well. When it comes to people, however, the serious demeanour disappears in favour of laughter and togetherness.  In one Michelin rated restaurant in Cinque Terre, for example, our first impressions was that of a dispassionate crew more intent on processing customers than on creating a positive experience. But this impression was dismissed almost immediately.
The maitre'd (also owner and head chef I think) was frighteningly serious as he seated us. What we realized, though, was that he was just concerned about making sure we were seated in a comfortable place. Once we were, he broke out into a big smile and introduced our server. She was extraordinarily helpful with the menu, and laughed easily. But the frivolity ended when she left the table. She switched her focus from getting along to getting it right.
Similarly in the first restaurant we visited in La Spezia, where I think we were actually served by the grandmother. By the time we finished, I could have been convinced that she was my own grandmother. Later that evening, we were at a restaurant (the name of which I have, sadly, lost) . One of the best restaurants I have ever been to. When I start my own restaurant, Federica will be the first server I hire. Outstanding.
Maybe the best part is that the breathtaking beauty and rich culture of this country takes everything to yet another level. In Italy, it's hard not to feel at home.
Shaun
---
Shaun Belding is CEO of The Belding Group and has been consulting and speaking on customer experience for 23 years