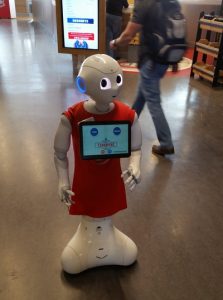 This is the first installment of a month-long customer journey, where I will be reviewing the myriad of interactions that contribute to a customer's overall experience. Why am I doing this? The explanation is in the first post here.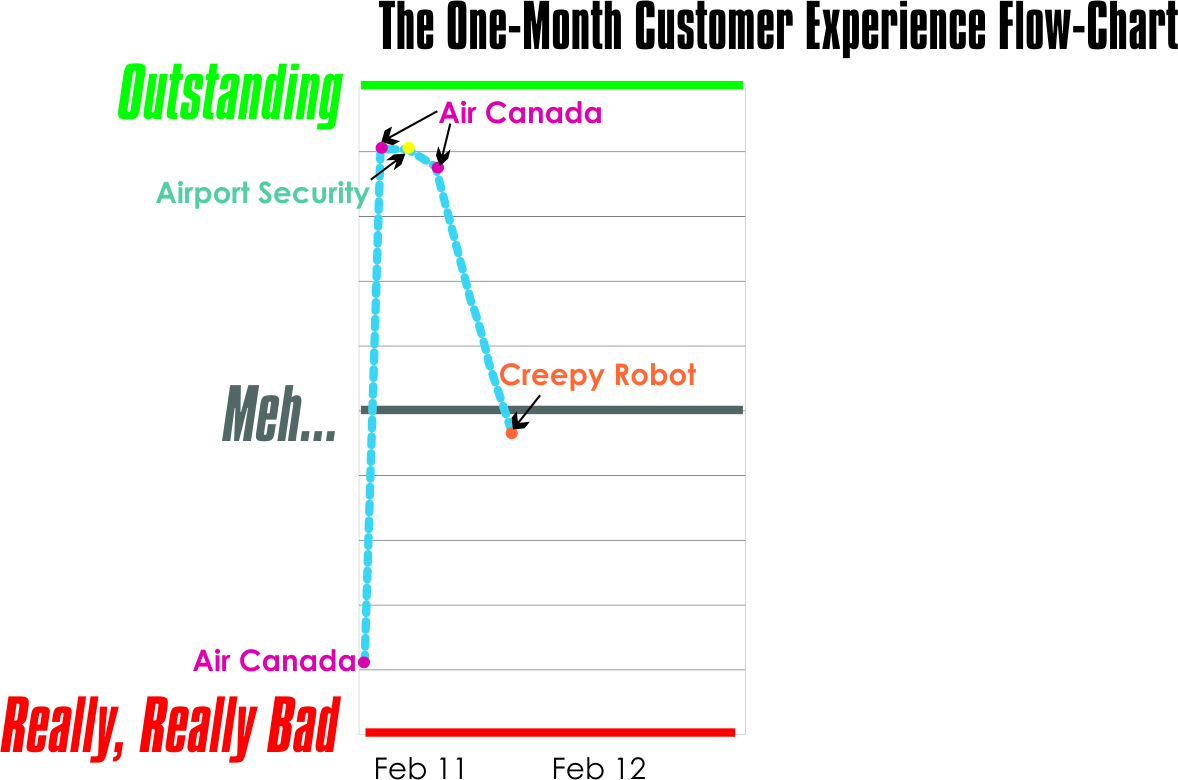 Air Canada Begins With A Customer Service Fail
We arrived at the terminal and headed for the Air Canada counters. There were three employees at the counters and no customers. Each of the counters had a "closed" sign on them. Hmm…
None of the employees acknowledged us as we walked up and stood at the first counter. None of them appeared happy. After about ten seconds the person in front of us begrudgingly looked up, and it was clear from his expression that he was annoyed. When I asked him if any of the counters were open, he just stared at me and asked what class I was flying. When I responded with 'business class,' he waved a hand to direct us to the next line over, and indicated that we should go back out past the red velvet ropes and down the next set of red velvet ropes.
Since there were no other customers, we simply walked over to the next person. She looked up at us, no less annoyed than the first gentleman. Apparently we were an inconvenience. Wordlessly, she typed the information into her computer, sighed heavily a few times, then gathered our passports and pictures into a big pile and handed them to us. When I asked if we were good to go, she just nodded. We walked away.
Having been to the Air Canada desk a million times over the years, I knew that it was going to be a crap-shoot as to the experience we would have. There are some employees who are absolutely delightful and some who have no clue what customer service is all about. Oh well, I crossed my fingers and hoped things got better. They did.
Customer Service At Security: A+
The security team at the Ottawa airport is typically quite good, and this was no exception. Smiling, polite, efficient and effective. Each of the four people we interacted with were tremendously friendly. We've done a number of customer service training programs to people who work in security roles, and the Ottawa airport proof that one can perform a very serious role without sacrificing customer service. Maybe Air Canada should get some customer service recruiting and training tips from them.
Part of me regrets not having videoed this experience so we could use it in training sessions. The other part of me, though, recognized that pointing cameras at people in a security checkpoint might end badly.
Air Canada – The Good
Next stop was the Air Canada lounge. It was obvious from the start that the people working there were not nearly qualified enough to work down at the check-in counters. They were all far too friendly and far too helpful. The same was true for the lounge on our next stop in Montreal.
As airport lounges go, Air Canada does a pretty good job. They are clean, comfortable, well-maintained and the people are generally awesome. In terms of fancy food fare and bells and whistles they don't compare to some of the European or Asian airlines, but as a place to just relax before a flight, they're great.
The flight from Ottawa to Montreal is about six minutes long – or so it seems. Not much for a flight attendant to do other than onboard and offboard passengers, but ours was friendly & efficient. Air Canada is 3 for 4 in the positive customer experience department!
Cue The Creepy Robot

The last bit in this post I wanted to touch on was the robot we met in Montreal. As we were walking through the airport, we heard this friendly voice say "hello." It was coming from a three-foot-tall robot with big eyes, and she (I think it was a woman's voice) was moving toward me. She stopped about ten feet away, then said, "Come closer."
It seemed like an odd thing for a robot to say, but, as instructed, I took a couple of steps toward her. Without moving, she then repeated, "Come closer." I suddenly had the feeling I was in one of those sci-fi movies and that this was the equivalent of a scary/creepy guy holding candy to kids from the door of his white van. I slowly backed away, then tried to look nonchalant as I hurried my wife down the hall. The robot didn't follow.
I bring this up, only because it was part of my overall experience. Not good, not bad, but inexplicable. Whoever she was, and whatever her intent, this little robot probably needs to be thought through a little better.
That's it for now. In my next post I'll tell you about Swiss Air and our first day in Spain. Stay tuned – AND I'd love to hear your thoughts as the journey progresses!